A while back I was approached by my local primary school and asked if I would be happy to go in an present an assembly on astrophotography for the children (and the staff were keen too) as part of their Space Education curriculum and STEM, anyone who knows me knows I love to present to a crowd as I do this every day, but this time would be different, this time I would be presenting to children as young as 6 so I had to put some real thought into the content in order to keep their attention.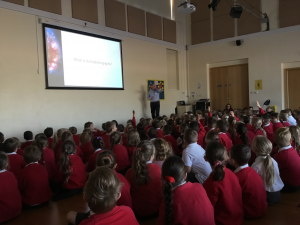 We started off by talking about what astrophotography is, many of the children had a good idea of what it is, most of the children had told me what things they had seen in pictures from space such as the Moon, Planets such as Jupiter and Saturn as well as images of the milky way, we also talked about how astrophotography images are taken and we talked about different telescopes, especially the Hubble Space Telescope (HST) and how much it cost when it was first launched in 1990, we looked at some of the images produced by Hubble and then looked at some of the images I have produced and the children thought mine were better because my telescope cost far less.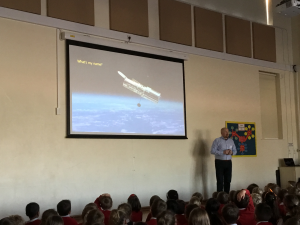 After looking at some images, I shown them some photos of the equipment I use for imaging and I asked them if they knew what each part was, I was pleasantly surprised at some of the reactions and answers to my questions, clearly the staff at the school had done an outstanding job of teaching them about space. I got many questions from the children about my hobby and about space in general and the enthusiasm and thirst for knowledge about what lies beyond our planet was amazing. We finished up with a video of my images which was met with oooh's and wow's from the children, a link to the video can be found at the bottom of this post.
I wish to thank Miss Reeve at Northland Wood Primary Academy for inviting me to come in and talk to the children and I hope I inspired some budding astronomers in the audience (as well as the staff).