I spent a lot of time looking at PowerBoxes/USB Controllers, the late Per Frejvall had developed a very nice Remote USB Hub but of course with the passing of Per, these are no longer available. I looked at two hubs, the HitechAstro Mount Hub Pro abnd the one I settled for was the Pegasus Astro Ultimate PowerBox.
Unboxing the PowerBox I was pleased with the build quality, they even ship mounting brackets for you to be able to mount it onto your setup, here's an image of mine mounted on top of my Sky-Watcher Quattro: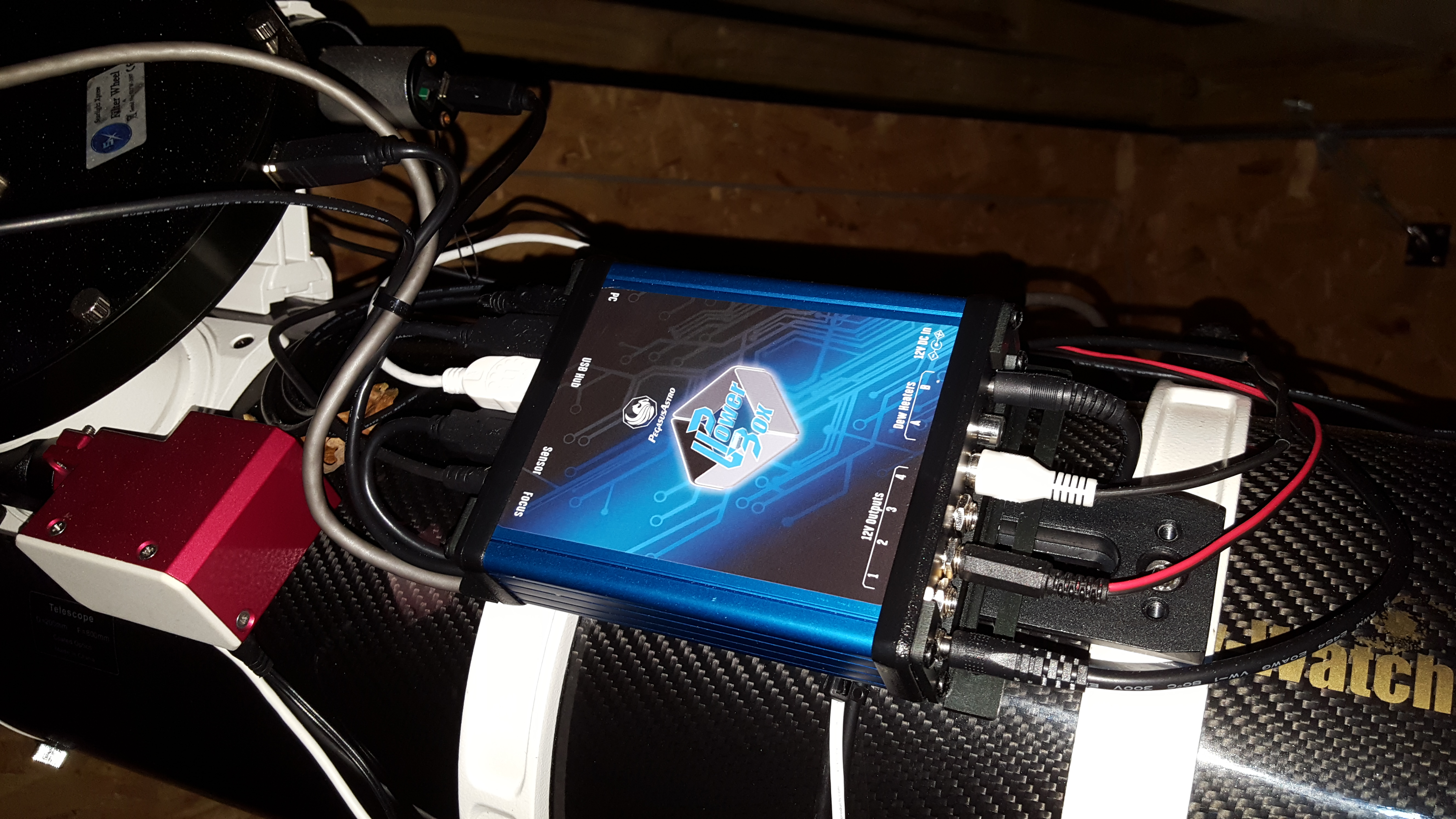 I loaded up the software onto the observatory PC and again pleasantly surprised at how easy it was to get started and configure the names of the powered devices connected as well as names for each of the dew heaters, in the following image you can see my power connected devices and my dew heater for my guider camera: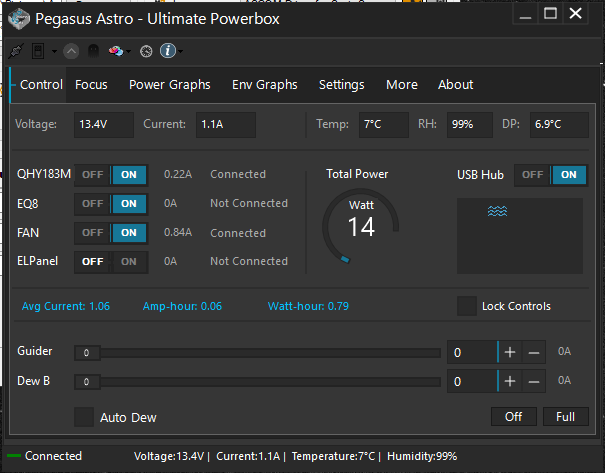 I configured the software to automatically power my devices the moment the unit is switched on, so what do I have connected to the PowerBox?
QHY5L-II Guide Camera
StarlightXpress USB Filterwheel
PrimaluceLabs ROBO Focuser
EQ8 Pro Mount PC-Direct Cable
I didn't connect my QHY183M at the moment as I discovered that during image download it seemed to cause a timeout on the QHY5L-II Camera, I have raised a ticket with Pegasus Astro on this one. From a Power perspective, I only have my QHY183M and my Rear Fan assembly/heater connected as I currently do not have the power cable to connect directly to the hub for the EQ8 Pro (On Order). There is also a temperature sensor for the ultimate version, which works well as an interface for Sequence Generator Pro and my Auto Focuser routines.
I have been using the Hub now for a good few months, I am pretty happy with it, am I totally happy you might ask, well to be honest there's a couple of niggly things that I have emailed Pegasus Astro about (awaiting a response):
Voltage. I am running 13.8V regulated bench power supply capable of delivering up to 15A which is powering the hub, however when devices such as the camera, dew heater, fan assembly are all running, the voltage level drops down to around 12V according to the software, I would not expect this to do so, I would expect it to remain 13.8V. My EQ8 Pro mount is powered by the same supply (but not through the hub currently) and during slew the voltage in the software does not change, so it's obviously something being caluclated within the hub somewhere.
Issue with USB3 Camera (QHY183M) is still outstanding
When you set the power to the dew heater for example I always run it at 170, however when the software restarts you have to manually go and set this again
Ability to reboot or "Disconnect" a specific USB Port remotely would have been nice.
The main reason I wanted something like this was the ability to reboot the hub remotely, with standard USB Hubs this is not possible, as above, I would love to have a bit more granularity on this and have it on a per USB port but it works well for me right now.